Everyone loves this Caramel Corn.  It is great to give as a gift or to just munch. Warning….if planning to use for a gift, box it up or it will disappear!    I have had people who dislike other Caramel Corn ask for the recipe.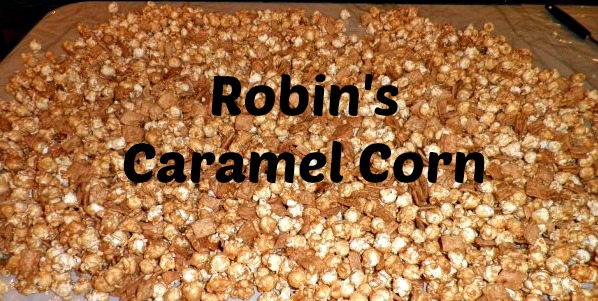 I originally got this recipe from someone I worked with about 25 years ago.  I have modified the recipe a bit.  I usually  make it with the hulless popped corn that comes in the bag at the store.  It saves half the time of making this recipe.
Ingredients
8 quarts of Popped Corn – Air-popped is best or use the hulless puffed corn that comes in bags at the store.  
2 cups of brown sugar 
2 sticks of margarine 
1/2 cup Karo Syrup (white) 
1 Tsp of Salt 
1 Tsp of Vanilla 
1/2 Tsp of Baking Soda 
1 can of mixed nuts or pnuts or cashews. 
1/2 box of Cinnamon Toast Crunch Cereal
We usually double this for a large batch. You will need two roasters or pans for a double batch.   Each batch makes a lot and you need room to stir.
Instructions
Spray roaster with Pam. Pop Popcorn and separate unpopped kernals. Mix popcorn, cereal and nuts in a large container and then put in roasters or baking pan.
Combine brown sugar, margarine, karo syrup, and salt. Boil for 4 minutes while stirring. Remove from heat and add vanilla and baking soda. Stir thoroughly. Mixture with get foamy. Pour immediately over popped corn mixture. Stir and mix well.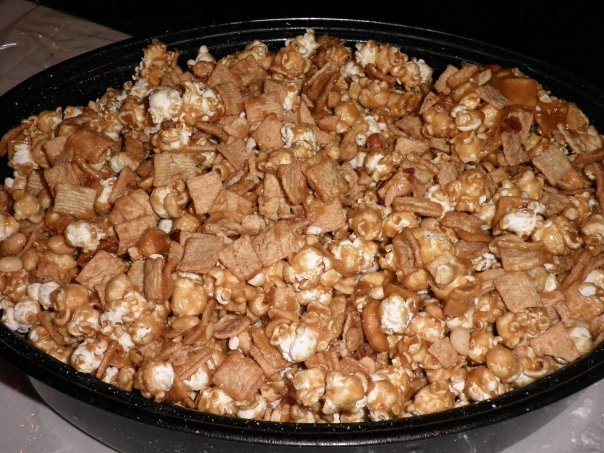 Caramel corn before cooking. 1 batch
Bake at 240 degrees uncovered for 1 – 1 1/2 hours stirring every 15 minutes. When finished pour onto a large surface and let cool then mix it up to break up clumps and store in airtight container till ready to eat.  We usually cover the table with a large plastic cloth before dumping and cooling.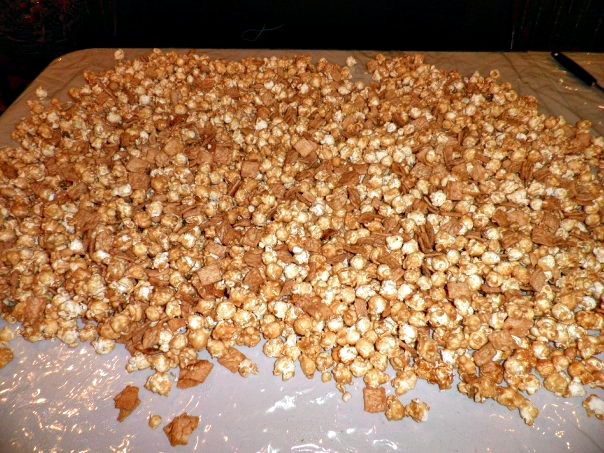 WARNING…this is habit forming!
Grab our Car Packing List
Subscribe to get our latest content by email.