Halloween is a fun time of festivities and parties.  Trick or treating and haunted houses are traditions.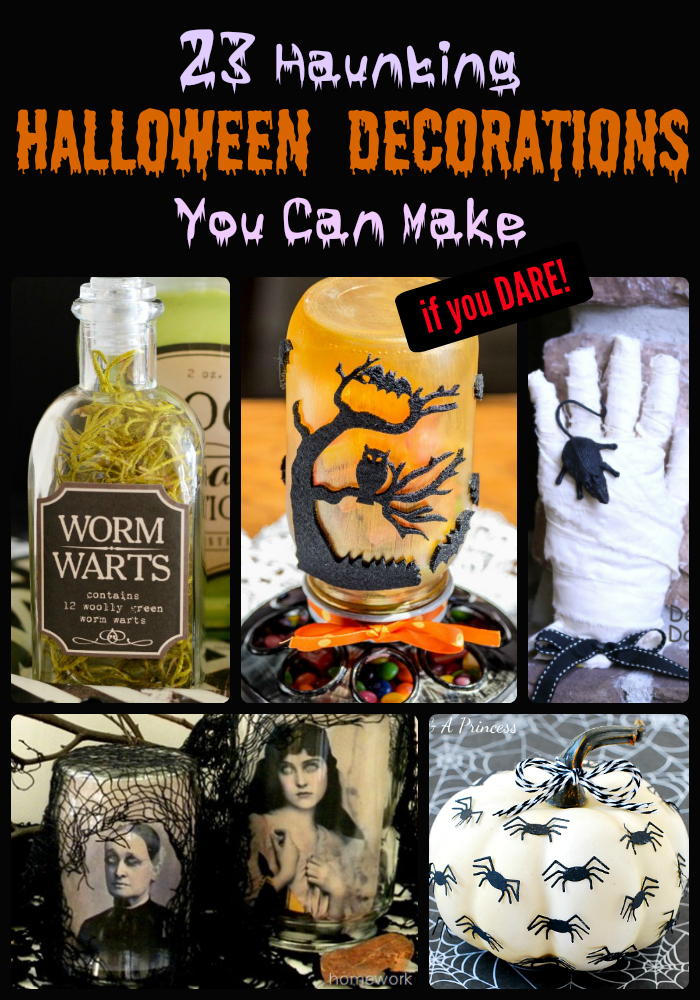 Anyone who knows me knows I love Halloween Parties and decorating.    I've hosted many a party for family, friends, and my son's classmates and friends.
While all the Halloween celebrations can be fun, it can also be expensive.  I have found many of the  things you want to use for decoration can be made at home for a fraction of the cost.
23 Haunting Halloween Decorations You Can Make
Here is a roundup list of 23 decorations you can make.  Some scary, some fun and all for a fraction of the cost of purchasing the items in the store.  Plus you and your children will have fun making them.
1. Jade Louise Designs – DIY Candy Feeder Dish
2. Design Dazzle – Whimsical Witch Legs
3. Family Thinking Outside the Sandbox – DIY Felt Ghost Bean Bags
4. Carolyn's Homework – Halloween Scary Jars      This is one of my favorites!
5. The Nerd's Wife – Melted Crayon Pumpkin   Great project for upper elementary students!
6. Tried and True Blog – Vintage Halloween Tassels
7. R and R Workshop – Burlap Boo Bunting
8. Design Dazzle – HWitch Crashing Decoration
9. A Pumpkin and a Princess – Halloween Apothecary Jars  Another one of my favorites, especially the glow in the dark slime!
10. Scattered Thoughts of a Crafty Mom – DIY Glitter Pumpkins  – Great for teens and adults.
11. R and R Workshop – Personalized Trick or Treat Bags (Picmonkey.com Tutorial)
12. Craftulate – Spider Craft for Toddlers
13. Design Dazzle – Mummy Hand from a Dish Glove  This is fun!
14. A Pumpkin and a Princess – Halloween Spider Pumpkin
15. R and R Workshop – DIY Halloween Shadow Puppets
16. Uncommon Designs Online – Treat Buckets
17. Taking Care of Monkey Business – DIY Monster Wreath
18. Typically Simple – Halloween Pillow Cover Using a Freezer Paper Stencil  I'm planning to make one of these.
19. Overstuffed Life – Tulle Halloween Wreath
20. Crafts By Amanda – Halloween Painted Jar Luminaries
21. Create Craft Love – Raven Inspired Porch  Love this idea!
22. Princess Pinky Girl – Tomato Cage Ghost
23. Tater Tots and Jello – Easy Black and White Topiary
Have Fun
I hope you found one or two to make and maybe you got a few new ideas of your own. These do-it-yourself decorations will certainly help you have a hauntingly happy Halloween!
Let me know which items you decided to make and if you know of any others, I would be happy to share.
Grab our Car Packing List
Subscribe to get our latest content by email.